Once again, I am honored with an award! I am SO, SO thankful for such wonderful support and humbled by the graciousness of those who send me comments, answer questions and have become a HUGE support to me. The most amazing thing to me is that I have never even met any of you in person yet you are the kindest human beings to a basic stranger! My B-I-G S-H-O-U-T-O-U-T goes to Marlana from Lil' Country Kindergarten, as she has truly been a HUGE inspiration to me and such a wonderful supporter. She has helped me with so many questions (not even teacher related) and is always willing to help. If you have not seen her blog, PLEASE zip on over there now and become a loyal follower. I am her #1
stalker
follower! Here is her link:
http://lilcountrykindergarten.blogspot.com
Winners of this award are to pass it on to four or YOUR favorite followers... (Hopefully you have 4!) the ones who are always sure to leave you some love, and who make you feel really good about whatever it is you posted! (Which I admit, I have been MIA lately!!! No excuse but I am also going through BTSA right now plus teach a class full of "special" kinders). Gotta love those kiddos though!
With that being said, I would have to say that I would have to Re-Award (is that such a word?) this award to Marlana. She truly ROCKS!! She has such a passion for teaching and helping, which I am finding in most teachers it comes hand in hand, but there are those special ones that go above and beyond, so thank you Marlana!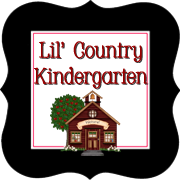 Cheryl at Crayons and Curls! Thanks for "tagging" me! Good thing I really don't have to run! Whew!
Heather from Heather's Heart! She has left me some great comments and has some TRULY wonderful ideas on her blog...
Louanne from My Kindergarten Kids (which is a new name and look for her). I would LOVE to be in her class if I were a Kinder again better yet, wish I could just have her as a mentor teacher and let me
copy
learn from her! Please check her blog out if you haven't yet!

With that being said, THANK YOU to ALL of my
200
oops, dreaming again, 97 followers. I know I haven't posted much lately and need to get it together more but I do appreciate each and everyone of you and would love to hear from you all! Many blessings!